Washington state plans to build a new regional airport in the next decade, and the Yakima City Council wants Yakima Air Terminal-McAllister Field (YKM) to be considered as the new preferred airport location.
Council approved a letter on Tuesday, January 3rd, outlining its request to the Washington State Department of Transportation (WSDOT).
"YKM has a historic partnership with SeaTac Airport, including serving as the emergency back-up site for aircraft unable to land at SeaTac," the City Council's letter to WSDOT and the Commercial Aviation Coordinating Committee (CACC) stated. "Yakima provides an excellent option because of its central location with easy transportation access to the west and east sides of the state."
The City of Yakima wants to hear from the community about the possibility of YKM expanding and becoming this new regional airport. The public is encouraged to participate in a brief, 2-question survey at https://surveys.zencity.io/yakima/6gfyJX/?s=sd or snap the QR below code to access the survey.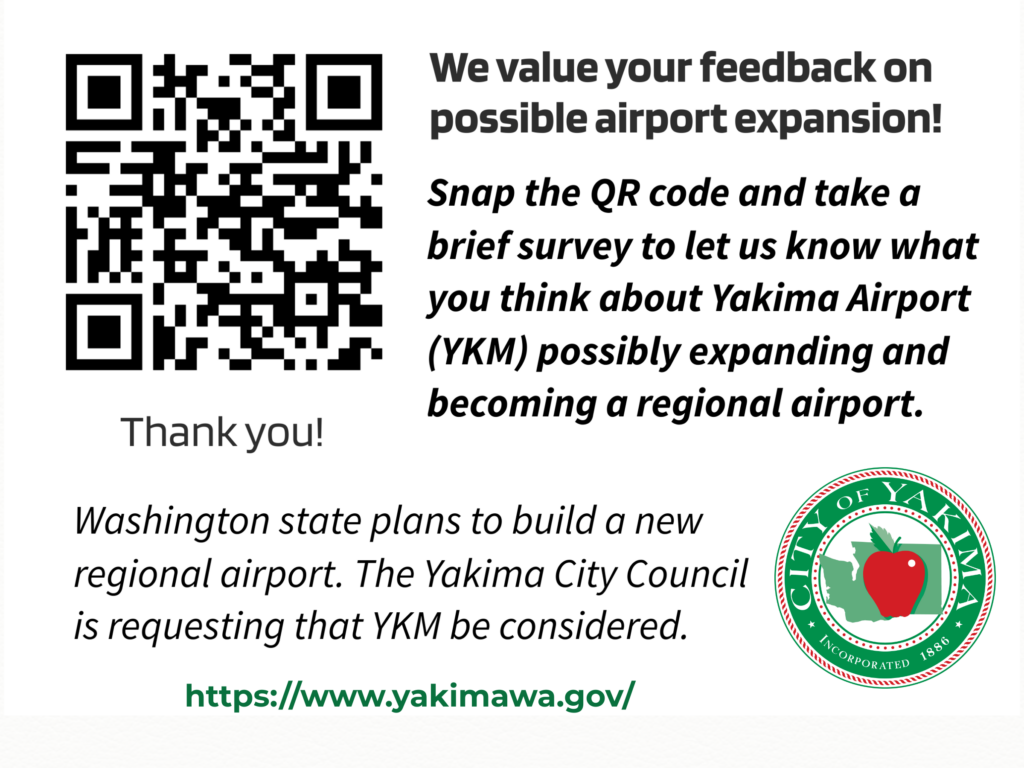 In seeking consideration of YKM for enhanced cargo and commercial air service, Council's letter lists benefits for Yakima as the site for a new airport location. Among them are:
Ample land within a 5-mile radius of the airport for developing long-term parking, rental cars, hotels and other industrial/commercial uses
Completion of an environmental review for a planned new terminal at YKM
Yakima's easy access to Interstate 82, Interstate 90 and commercial rail
YKM was previously identified by WSDOT as a beta test site for electric aviation.
Click Coversheet (novusagenda.com) for a copy of the letter and additional background information.