Where are bike racks located in the City of Yakima? Where are they needed, or in need of repairs?
A new City of Yakima web-based app aims to help the City's Bike and Pedestrian Advisory Committee find answers to those questions.
The City has created an on-line bike rack data collection system application online at http://www.yakimawa.gov/bike-racks that seeks the public's input on where bike racks are located, where they're needed, or where there should be more bike racks.
Users can also upload a picture to show space where a rack is needed or if there is a damaged rack in need of repair.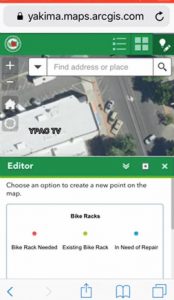 The interactive inventory of bike racks in the City of Yakima – and suggestions for future rack locations – is also available via mobile devices.
Visit https://www.yakimawa.gov/council/boards-commissions/ for more information about the Bike and Pedestrian Committee or other City of Yakima commissions, committees, and boards.