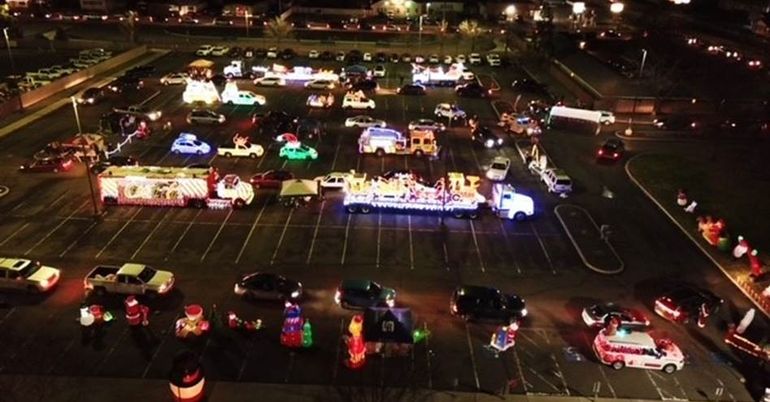 The Holiday Lighted Parade and tree-lighting ceremony on Dec. 3rd kicked off the holiday season in Yakima, but there's plenty more in store:
Yakima Parks and Recreation's fourth annual drive-thru Letters to Santa event at the City's Public Works facility, 2301 Fruitvale Blvd, on Saturday, December 9th, from 5:30 pm to 7 pm. The free event features music, Yakima Christmas Trucks and a special mailbox for letters to Santa. Lighted features will include Christmas-themed inflatable displays. During the drive-thru event, while supplies last, there will be treats available for children, such as candy, gloves and small activity sets. Mrs. Claus will greet cars as they arrive at the mailbox to drop off their letters to Santa.
Luminaria at Yakima Area Arboretum is Dec. 8th and 9th. The grounds will be lit by over a thousand candles and twinkling lights. Besides a candle-lit walk through the Arboretum's wintry landscape, children's crafts and shopping in the Arboretum's Tree House Gift Shop will be available. NOTE: Yakima Transit will not provide a shuttle to Luminaria due to a driver shortage. As a result, the Arboretum has an online, time-entry reservation system for parking during Luminaria.
The fourth annual drive-thru Holiday Light Fest at State Fair Park, Dec. 7-17. Click Holiday Light Fest (statefairpark.org) for info and schedules.
A new event this year is the Downtown Yakima Holiday Market on Saturday, Dec. 16th, from 11 am to 3 pm. It will be at Rotary Pavilion, 15 W. Yakima Ave, and feature hot food vendors, arts and crafts, holiday music, a photo booth and more. Visit Holiday Events in Yakima – Downtown Association of Yakima (downtownyakima.com) for more information.