Wine Tours
Wine Tours in the Yakima Valley are an unforgettable journey of delightful discovery. Across this sun-soaked region, magnificent vineyards, trellises laden with rich grape varietals, lie in the same latitude as the great wine producing regions of France. Our community partners help you plan your trip to visit the Yakima Valley on your next wine hopping tour.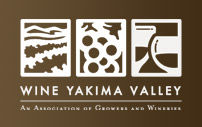 This site is a great place to plan your next wine tour. They have an amazing interactive map to help you decide what wineries interest you most, and find accommodations along the way.
5808A Summitview #325
Yakima, WA 98908
Phone: (509) 965 5201
1 800 258 7270
Email: wineyakimavalley@msn.com
The Pacific Northwest's guide to the wines, wine country and the good life! This site is great for learning about the wineries and appellations of the Pacific Northwest.

Immerse yourself into a variety of wine, agriculture and natural beauty of the Yakima Valley. Being the epicenter of Washington's wine and agricultural industries, the region's plentiful sunshine filled days create the perfect climate for acres of rolling vineyards, orchards, hop fields and countless agricultural produce.