Yakima Regional Wastewater Treatment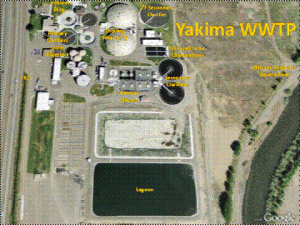 Typical Wastewater Treatment Process
The Yakima wastewater treatment plant (WWTP) requires businesses and industries to implement "pretreatment measures" that remove contaminants from the wastewater before it enters the sewer. Once wastewater is conveyed to the Yakima Yakima WWTP, debris (plastics/rags) and grit material (sticks/pebbles) are removed.  The wastewater is next allowed to sit in large sedimentation tanks, where solids physically separate from liquids by gravity and settle to the bottom. The solids are collected and biologically stabilized by beneficial microorganisms that decompose, or digest, the solids. The liquids are further treated by aeration and the biological action of beneficial microorganisms that remove additional organic matter. From here, the clean water is disinfected and returned to the Yakima river. Plant Photo
Plant History
Sewerage for the City of Yakima was first provided in 1886. By 1891 most of the original central business district was set up for the area's raw waste to be conveyed to the Yakima River. Nearly all the City's approximately 25,000 residents were connected to this system by 1936, when the original primary treatment plant was constructed, providing treatment for 2.0 Million Gallons per Day (MGD).
In 1955 food processing flow (fruit and vegetable waste) was separated and sent to the 100- acre spray field which still borders the plant on the south and east. Although the spray field eliminated a major source of organic loading, deteriorating river water quality led the Washington State Pollution Control Commission to direct the city to provide secondary treatment. In 1965, the city implemented secondary treatment by building two 170-foot diameter trickling filters. The new secondary treatment facility was capable of treating a flow of 15.4 MGD. As a result of 1972 amendments to the Federal Water Pollution Control Act, the city was again required to evaluate the performance of its wastewater treatment facility. This eventually led to further facility upgrades including the addition of an activated sludge system.
In 2009, the facility improved systems further by removing chlorination disinfection and installing an Ultra Violet disinfection system; eliminating the chlorine hazards from the plant and the outfall, while still maintaining efficient disinfection.   More recent upgrades include collecting and trapping methane gas produced from the digesters, for use elsewhere in the plant for fuel.  Plant engineers continue plant upgrades to turn waste into resources.
If residents have ruled out their own pipes as the cause of the blockage (by calling a plumber), they should call:
7 am to 4 pm – call 575-6077
Afterhours – call 594-8388
Divisions of Wastewater
Operations | Collections | Laboratory | Stormwater | Biosolids | Pretreatment
Click on the links below for additional information.
Business Applicants get your Industrial Waste Surveys here: Pretreatment Department
Municipal Code Title 7   Public Services and Utilities