Planning Division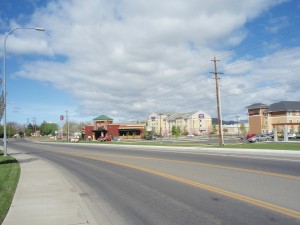 Mission Statement
The mission of the Planning Division is to assist the citizens of Yakima in the achievement of their personal and community development goals. We will provide this service on an individual and timely basis with a commitment to community values, ecological principals for protection of the environment, while evaluating competing priorities and interests.
Our goals for accomplishment of this mission are as follows:
Quick Links:
YAKIMA PLANNING COMMISSION
CITY PLANNING DIVISION / YNHS – "MISSION" & "RESOURCE SERVICE CENTER" USES – Proposed text amendments to the Zoning Ordinance: TXT#001-15 and TXT#002-15

TXT#001-15 (SEPA#007-15): The City of Yakima Hearing Examiner's 1992 and 1995 definition for a "Mission", permitted in the Central Business District (CBD), General Commercial (GC), and Light Industrial (M-1) zoning districts. This application will require two public hearings; one before the Yakima Planning Commission to be followed by a public hearing before the Yakima City Council. The public hearing before the City of Yakima Planning Commission was held on Wednesday March 25, 2015. The public hearing before the Yakima City Council will be held on Tuesday May 19, 2015 beginning at 6:30 p.m. or soon thereafter in the City Hall Council Chambers located at 129 North 2nd Street.
TXT#002-15 (SEPA#007-15): A proposal for a new definition for "Community Resource Service Center" defined as: "means a mixed use facility providing programs, resources, assistance and temporary shelter to homeless and pre-homeless populations of the immediate community.". This application will require two public hearings; one before the Yakima Planning Commission to be followed by a public hearing before the Yakima City Council. The next meeting with the Yakima Planning Commission regarding this issue will be held on Wednesday May 13, 2015 beginning at 3:30 p.m. in the City Hall Council Chambers located at 129 North 2nd Street. Additional information is posted below:
HEARING EXAMINER
YAKIMA NEIGHBORHOOD HEALTH SERVICES – "COMMUNITY RESOURCE SERVICE CENTER" USE – INT#001-14



Yakima Neighborhood Health Services is requesting an unclassified use interpretation for a proposal to establish a new use in the Yakima Municipal Code (YMC) § 15.04 Table 4-1 Table of Permitted Uses in the SCC zoning district, and YMC § 15.02 Definitions for a "Community Resource Service Center" defined as "a mixed use facility providing programs, resources, assistance and temporary shelter to homeless and pre-homeless populations of the immediate community." This request requires that the Hearing Examiner hold a public hearing. This public hearing was held on Thursday April 2, 2015, beginning at 6:00 p.m., at the Yakima Convention Center, 10 N. 8th St., Yakima, WA. Additional information is posted below: