Planning Division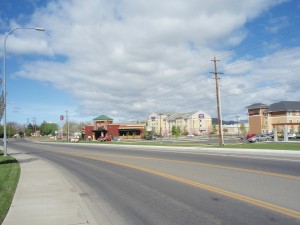 Mission Statement
The mission of the Planning Division is to assist the citizens of Yakima in the achievement of their personal and community development goals. We will provide this service on an individual and timely basis with a commitment to community values, ecological principals for protection of the environment, while evaluating competing priorities and interests.
Our goals for accomplishment of this mission are as follows:
Provide superior public service in a responsive manner;

Coordinate information and provide technical support to all other departments and City officials;

Strive to arrive at decisions that will best serve the entire community and improve quality of life within our community;

Implement the policies of the elected representatives of the City;

Dedicate all of our professional and technical skills to the enhancement of the quality of life for every citizen of the City of Yakima;

Adhere to ecological principals for the protection of the environment, as well as preserve the heritage of and investment in the built environment;

Systematically and critically analyze proposals related to land development and evaluate competing priorities and interests in order to provide recommendations for action.
Quick Links:
The Yakima Planning Commission is soliciting public input and comments on how billboards and digital signs affect community character and community business and to gather ideas on appropriate levels of regulations.
The Yakima Planning Commission's public hearing regarding proposed regulations on billboards was held on February 26, 2014. The Yakima City Council held its public hearing on the same issue on March 18, 2014. ________________________________________________________________________________________________
Marijuana Text Amendment   click here for additional information. The Yakima Planning Commission held a public hearing on January 8, 2014 in the City Hall Council Chambers. The purpose of the public hearing was to consider a proposed text amendment to Title 15 of the Yakima Municipal Code banning the production, processing, and retail sale of marijuana in the City of Yakima. The Yakima City Council approved the Planning Commission's recommendation at a public hearing on Tuesday January 21, 2014 and adopted Ordinance No. 2014-001; it became effective February 23, 2014.
Shoreline Master Program Update (SMP) – Documents and Information The information on this page is intended to provide the public with an accounting of both the adopted documentation that supports the City's Shoreline Master Program update process, and any current draft documentation that requires public review and input prior to hearing and adoption of the final Shoreline Master Program.
The Yakima City Council held a public hearing on November 5, 2013 and adopted the Shoreline Master Program Update and directed staff to submit the adopted ordinance and accompanying documents to the Washington State Department of Ecology for final review and acceptance. The ordinance will become effective upon approval by the Department of Ecology.
Click the link to view the Shoreline Master Program Update.