Planning Division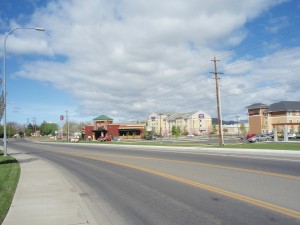 Mission Statement
The mission of the Planning Division is to assist the citizens of Yakima in the achievement of their personal and community development goals. We will provide this service on an individual and timely basis with a commitment to community values, ecological principals for protection of the environment, while evaluating competing priorities and interests.
Our goals for accomplishment of this mission are as follows:
Quick Links:
City of Yakima – YMC 15.08 Sign Code Text Amendments – TXT#005-14, SEPA#029-14

The City of Yakima Planning Division is proposing amendments to the City of Yakima Urban Area Zoning Ordinance amending Yakima Municipal Code Chapter 15.08 Signs to further regulate or permit temporary, roof, wall, display case, fascia, and window signs. This application will require two public hearings; one before the Yakima Planning Commission to be followed by a public hearing before the Yakima City Council. The public hearing before the City of Yakima Planning Commission has been scheduled for January 28, 2015, beginning at 3:30 p.m. in the City Hall Council Chambers, 129 North 2nd Street, Yakima, WA 98901. Any person desiring to express their views on this matter is invited to attend the public hearing or to submit their written comments to: City of Yakima, Planning Division, 129 North 2nd Street, Yakima, WA 98901. Additional information is posted below:
Yakima Airport Master Plan and Airport Layout Plan – SEPA#010-14 



The City of Yakima Department of Community Development is reviewing an environmental review for the proposed Yakima Airport Master Plan and the Airport Layout Plan Update for the Yakima Air Terminal / McAllister Field which is intended to evaluate and determine a short, intermediate and long-term maintenance and development program for the airport. A detailed maintenance program for airside and landside facilities has been formulated, and a 20 year Capital Improvement Program has been prepared. The Capital Improvement Project consists of actions that support continued safe and efficient operation of the airport. Additional information is posted below:
The Washington State Growth Management Act requires cities and counties to adopt land use regulations that are consistent with and implement their comprehensive plan. For 2014, the City of Yakima received a total of three requests to amend the Future Land Use Map and one zoning text amendment.The Yakima City Council will conduct a closed record public hearing to consider the Yakima Planning Commission's recommendations concerning the 2014 Comprehensive Plan Map and Text Amendments and concurrent rezone applications. This public hearing will be held on Tuesday November 18, 2014 at 6:30 p.m. or soon thereafter in the Council Chambers at City Hall, 129 North 2nd Street, Yakima, WA 98901. All interested parties are invited to attend this hearing.
Bainter Group, LLC / Shaw Creek Utility Crossing – CAO#001-14 (SEPA#008-14)