Yakima Historic Preservation Commission
The next meeting is scheduled for Wednesday, January 24, 2024, at 5:30 p.m. in the Council Chambers at Yakima City Hall (129 N. 2nd St., Yakima, WA 98901).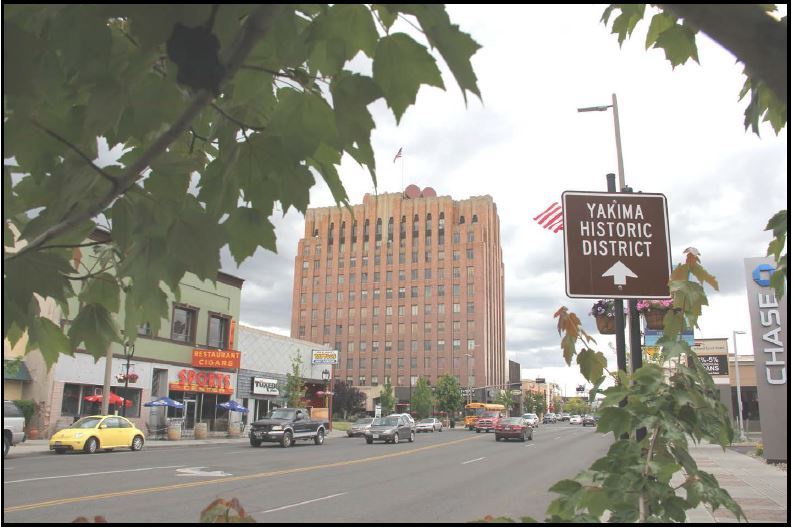 Naches Avenue Historic Overlay Project
Presentation
Development Standards
Fruit Row Nomination Report
Full report for the City's study on the creation of "Fruit Row" Historic District
Fruit Row Nomination Working Draft — June, 2022
---
---
Certificates of Appropriateness
2402 W Yakima Ave., Set for Review on April 7, 2021 (Click for notice info)
---
Local Register Nomination
No new proposals for the Local Register of Historic Places have been submitted for review.
---
Our Purpose
The purpose of the Yakima Historic Preservation Ordinance is to provide for the identification, evaluation, designation, and protection of designated historic and prehistoric resources within the boundaries of the City of Yakima and preserve and rehabilitate eligible historic properties for future generations.
---
About the Commission
4 Year Term — 5 members
The Local Review Board For Historic Preservation was established under Chapter 11.60 of the City of Yakima Municipal Code. It operates under Ordinance No. 1989-3223, 2005-002, & 2011-028.
Appointed by: Mayor with approval of the City Council.
Meetings: 4th Wednesdays @ City Hall
Term Limitations: None
Residency Requirements: Must be a Yakima resident
Attendance Requirements: None
Responsibilities: Make determinations concerning the eligibility of historic properties; verify that improvements are consistent with Washington State Advisory Council's Standards for Rehabilitation and Maintenance; enter into agreements with property owners for the duration of the special valuation period; approve or deny applications for special valuation; monitor the property for continued compliance with the agreement.
Yakima Historic Preservation Commission Bylaws



"…We need an environment which is not simply well organized, but poetic and symbolic as well. It should speak of the individuals and their complex society, of their aspirations and their historical tradition, of the natural setting, and of the complicated functions and movements of the city world… By appearing as a remarkable and well-knit place, the city could provide a ground for the clustering and organization of these meanings and associations. Such a sense of place in itself enhances every human activity that occurs there, and encourages the deposit of a memory trace." – Kevin Lynch, The Image of the City
---
For more information on Historic Preservation within the City of Yakima, contact the Planning Division at (509) 575-6183 or email to: ask.planning@yakimawa.gov.