Planning Division
Mission Statement
The mission of the Planning Division is to assist the citizens of Yakima in the achievement of their personal and community development goals. We will provide this service on an individual and timely basis with a commitment to community values, ecological principles for protection of the environment, while evaluating competing priorities and interests. 
Our goals for accomplishment of this mission are as follows: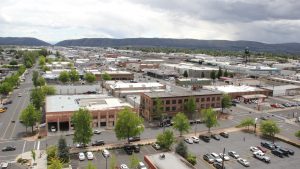 Provide superior public service in a responsive manner;

Coordinate information and provide technical support to all other departments and City officials;

Strive to arrive at decisions that will best serve the entire community and improve quality of life within our community;

Implement the policies of the elected representatives of the City;

Dedicate all of our professional and technical skills to the enhancement of the quality of life for every citizen of the City of Yakima;

Adhere to ecological principals for the protection of the environment, as well as preserve the heritage of and investment in the built environment;

Systematically and critically analyze proposals related to land development and evaluate competing priorities and interests in order to provide recommendations for action.
Quick Links
Recent issues in Planning. For information on other projects please visit our Online Permit Center or Weekly Agenda for Current Planning Applications.
Have You Used Our Public Portal Yet?
We are pleased to provide you the following services online through our online permit center:
View public notices

This includes notices such as…

Notice of Applications (for application types which require notice to the public per our Municipal Code)
Notice of Decisions (for required application types)
Notice of Public Hearings
Notice of Hearing Examiner or Yakima Planning Commission Recommendations to City Council

Search for land use permits
Pay application fees
Apply for the following application types…

Zoning Verification Request
Development Services Team (DST) Pre-Application Meeting Request
We also upload a list of our current planning applications weekly under "documents" on the portal and have a report to show the updating of this list in real-time (please be aware that the report may take a couple minutes to load).
Through the portal you also have the ability to upload a submittal for your land use application such as a site plan or legal description.
The city's Code Administration also allows some permits to be submitted on the portal as well as the ability to request an inspection and search for permits and licenses that they process (such as business licenses, building permits, etc.). Please see their webpage for more information.
Check it out at buildingyakima.com. We hope you find this service to be convenient and easy to use!
Land Use Action Signs
For some land use review processes, a land use action sign is required to be posted by the applicant to help inform neighbors, property owners, and others who frequently pass by the area that a project is being proposed at that location. This method of notification is in addition to other notice requirements dictated by the Yakima Municipal Code. The following are a few examples of review types which may require posting of a land use action sign:
– SEPA Environmental Review
– Type 3 Reviews
– Rezones
– Right-of-Way Vacations
– Preliminary Long Plat Subdivisions
If you've seen one of these signs in your area and would like more information on what is being proposed at that location, contact us at (509) 575-6183 or email to: ask.planning@yakimawa.gov. You may also find what you are looking for on our weekly agenda of current planning applications.