Planning Division
WELCOME! The Planning Division is here to assist you, the residents of Yakima, in the achievement of your personal and community development goals. We dedicate all of our professional and technical skills to the enhancement of the quality of life for every resident in our great city as we address land use and development matters.

Recent issues in Planning
Stay tuned for information on the 2019 Comprehensive Plan Amendment Process.

Visit our Online Permit Center or Weekly Agenda for Current Planning Applications for details on other project proposals.


---
Have You Used Our Online Permit Center Yet?
We are pleased to provide you the following services online through our online permit center:
Search for details on permits
Apply for the following application types…

Zoning Verification Request
Development Services Team (DST) Pre-Application Meeting Request (more info here)
Upload attachments for your application
For questions on using the portal for services that the city's Code Administration handles (inspections, business licenses, building permits, etc.) please contact them or visit their webpage for more information.
Check it out at buildingyakima.com. We hope you find this service to be convenient and easy to use!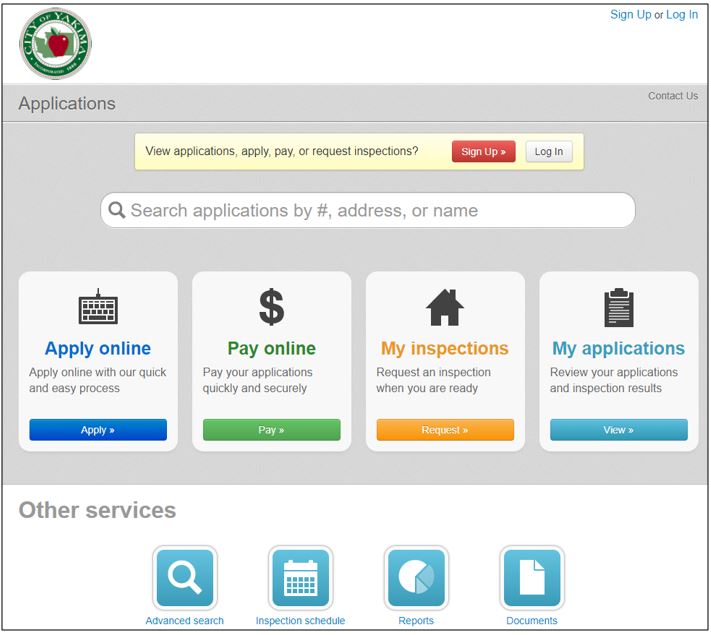 ---
Land Use Action Signs
These signs serve as another means of providing notification to neighbors and those who frequently pass by the area that there is a project being proposed at that site. Some of the review types in which it is required that the applicant post the sign include:
SEPA Environmental Review
Type 3 Reviews
Rezones
Right-of-Way Vacations
Preliminary Long Plat Subdivisions
If you've seen one of these signs and would like to know what is being proposed at that location, contact us at (509) 575-6183 or email to: ask.planning@yakimawa.gov. You may also find what you are looking for on our weekly agenda of current planning applications.