Housing Information
City of Yakima 2022 CAPER
The City of Yakima has released the draft version of the 2022 Consolidated Annual Performance and Evaluation Report (CAPER). The CAPER is a US HUD required document that describes the use of federal funds to provide affordable housing and supportive services for low to moderate income residents and neighborhoods consistent with the FY 2020-2024 Consolidated Plan.
Request for Written Comments
Written public comments may be submitted between June 9 and June 28, 2023. The draft City of Yakima 2022 CAPER document is available here. Hard copies of the document are available for review at the City Clerk's office. Written comments may be submitted to Joan Davenport, Community Development Director, 129 N 2nd Street, Yakima WA 98901 or by email to: ask.planning@yakimawa.gov. Written comments regarding the 2022 CAPER must be submitted no later than 5:00 PM on June 28, 2023.
Public Hearings
The first public hearing will be held during the Yakima City Council meeting on Tuesday, June 20, 2023 at 6:00 PM, or soon thereafter, via Zoom and in the Council Chambers of Yakima City Hall, 129 N 2nd Street, Yakima WA 98901. The second public hearing will be held during the Yakima City Planning Commission meeting on Wednesday, June 28, 2023 at 3:00 PM, or soon thereafter, in the City Council Chambers of Yakima City Hall, 129 North 2nd Street, Yakima WA 98901.
Any person desiring to express their views on this item is invited to attend the public hearings or to submit their written comments to: City of Yakima, Planning Division, 129 N 2nd St., Yakima, WA 98901 no later than June 28, 2023. Para la traducción al español, por favor llame al (509) 575-6183.
---
HOME-ARP Allocation Plan
City of Yakima Releases Draft HOME-ARP Allocation Plan for Public Comment
The City of Yakima was awarded $1,822,807 in Home Investment Partnership Program-American Rescue Plan (HOME-ARP) funds in a one-time allocation from the U.S. Department of Housing and Urban Development (HUD). The HOME-ARP Allocation Plan is required by HUD for the City of Yakima to receive federal HOME-ARP grant fund which is available to assist individuals or households who are experiencing homelessness, at risk of homelessness, victims of domestic violence and other vulnerable populations, by providing services or housing to reduce homelessness or provide housing stability.

The HOME-ARP Allocation Plan is in the final approval stage with HUD. Once it is approved, the City will initiate the Notice of Funding Opportunity. More information on this process will be posted when the funding announcement is issued.
---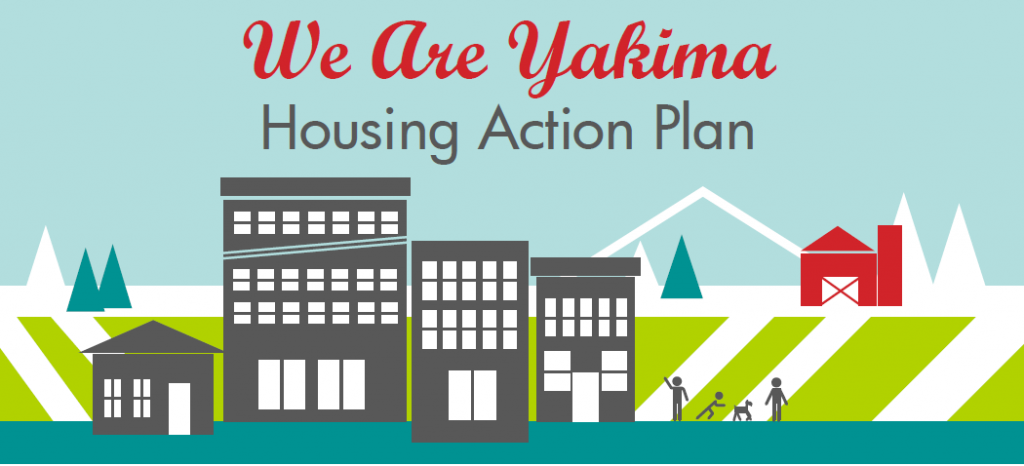 Housing Action Plan (HAP)
City of Yakima Final Housing Action Plan – Adopted June 2021
The City of Yakima developed a Housing Action Plan to support and encourage new housing production to provide more housing choices and address local housing needs. This work took place throughout 2020 and early 2021. It considers the housing needs of current residents and workforce as well as projected future population growth. There are six primary objectives:
A. Encourage diverse housing development within existing neighborhoods.
B. Create and preserve affordable homes.
C. Create homeownership opportunities for low- and moderate- income households.
D. Support housing options that meet the diverse needs of older adults.
E. Address the needs of those struggling with homelessness.
F. Protect against displacement and poor housing conditions.
HAP – Background Information
HAP – Implementation Strategies in Review by the Yakima Planning Commission
The Yakima Planning Commission (YPC) is involved in reviewing and implementing changes to the Zoning Ordinance (YMC Title 15) and the Subdivision Ordinance (YMC Title 14) as they relate to the Implementation Strategies of the Housing Action Plan. Of the 37 implementation strategies, YPC will review and set forth recommendations on the following ten strategies:
Strategy #1 – Update city regulations to remove barriers to innovative housing types
Strategy #7 – Create design standards for multifamily and mixed-use development
Strategy #8 – Improve permitting and environmental process
Strategy #14 – Revise parking standards in key areas
Strategy #16 – Consider fee waivers or deferrals for affordable housing
Strategy #22 – Address mobile home parks that are dilapidated
Strategy #23 – Encourage micro-retail and flexible cultural design space
Strategy #26 – Incentivize Senior Housing
Strategy #28 – Minimize barriers to development of housing serving multiple populations
Strategy #32 – Incentivize backyard cottages and cottage housing
---
Quarterly Reports to City Council
Public outreach and engagement is a critical part of this planning process. Reports are presented quarterly to the Yakima City Council:
---
Monthly Building Permit Reports
Reports of Building Permit Statistics and New Residential Units are generated monthly and located on the City of Yakima Public Portal for review.