Yakima Regional Wastewater Treatment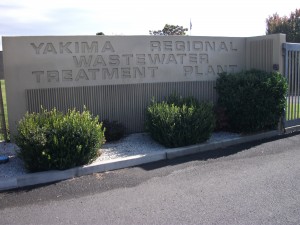 Contact Information
Address:  2220 East Viola, Yakima, WA 98901
Phone:  509-575-6077
If you have a sewer back-up to report, make sure it is not your private sideline.  If it is not your private side sewer line, call the number listed above.
Wastewater Treatment Process – From Treatment & Disposal to Resource Recovery & Sustainability
The Yakima Regional Wastewater Treatment Plant (WWTP) receives wastewater from homes, businesses and industries in Yakima, Union Gap, Terrace Heights and Moxee. Businesses and industries are required to implement "pretreatment measures" which remove toxic contaminants from the wastewater before it enters the sewer. After being discharged, the wastewater is conveyed through miles of sewer pipes and pump stations. Upon arrival at the WWTP, the wastewater is treated through many stages, which include grit removal, clarifiers, digesters, aeration basins and ultra violet disinfection.  After meeting state water quality standards, the treated water is returned to the Yakima River.
The WWTP implements a variety of processes to recover and re-use beneficial resources from the wastewater.  Phosphorous is recovered as "struvite" and converted to fertilizer.  Processed solids will be dried and converted to "Class A Exceptional" fertilizer in 2015.  Methane biogas is recovered from WWTP processes and used to sustainably operate WWTP systems, which reduces electrical costs and helps the environment.
An industrial waste line separately conveys wastewater from industries like fruit processors, breweries, cider presses and wineries to the WWTP.  This "high sugar content" wastewater is treated separately at the WWTP by an industrial waste bioreactor using an anaerobic process.  The bioreactor increases WWTP capacity and reduces electrical treatment costs.  New businesses are encouraged to take advantage of this beneficial technology.
Plant History – From 1886 to Today
Sewerage for the City of Yakima was first provided in 1886. By 1891 most of the original central business district was set up for the area's raw waste to be conveyed to the Yakima River. In 1936, the  primary treatment plant was constructed, providing treatment for 2.0 Million Gallons per Day (MGD).  Nearly all of the City's approximately 27,000 residents were connected to this system.
In 1955 food processing wastewater(fruit and vegetable waste) was separated from domestic wastewater treatment and sent to a 100-acre spray field which still borders the plant on the south and east. Although the spray field eliminated a major source of organic loading to the plant, deteriorating river water quality led the Washington State Pollution Control Commission to direct the city to provide secondary treatment. In 1965, the city added secondary treatment by building two 170-foot diameter trickling filters. The new secondary treatment facility was capable of treating a flow of 15.4 MGD.  In 1972, amendments to the Federal Water Pollution Control Act required the City to re-evaluate the performance of its wastewater treatment facility. This eventually led to further facility upgrades including the addition of an activated sludge system.
In 2009, the facility improved systems further by removing gas chlorination disinfection and installing an ultra violet disinfection system.   More recent upgrades, as described above, are helping to recover and sustainably re-use resources, expand capacity, encourage business and industry, improve the environment, reduce electricity costs and keep ratepayer costs down.
Wastewater Departments
Operations | Collections | Laboratory | Stormwater | Biosolids | Pretreatment
What Not to Dispose of in Sewers
Business Applicants, get your Industrial Waste Surveys here: Pretreatment Department
Municipal Code Title 7   Public Services and Utilities