City of Yakima response to COVID-19
COVID-19 (coronavirus) is an emerging, rapidly evolving situation with confirmed cases in Yakima County. The City has declared an emergency due to concerns about the possible spread of COVID-19.
The City is taking precautions and responding to the coronavirus:
All City facilities are closed until further notice. The City continues to provide services.
We encourage you to use our online services. They include the City's Online Permit Center and utility services webpages.
All City board, commission, and committee meetings are canceled until further notice.
The Yakima Police Department encourages you to utilize the online and telephone reporting systems as much as possible. YPD has created online tutorial videos in English and Spanish.
When responding to EMS aid calls, Yakima Fire Department firefighters are wearing personal protective equipment, including N95 masks and gowns.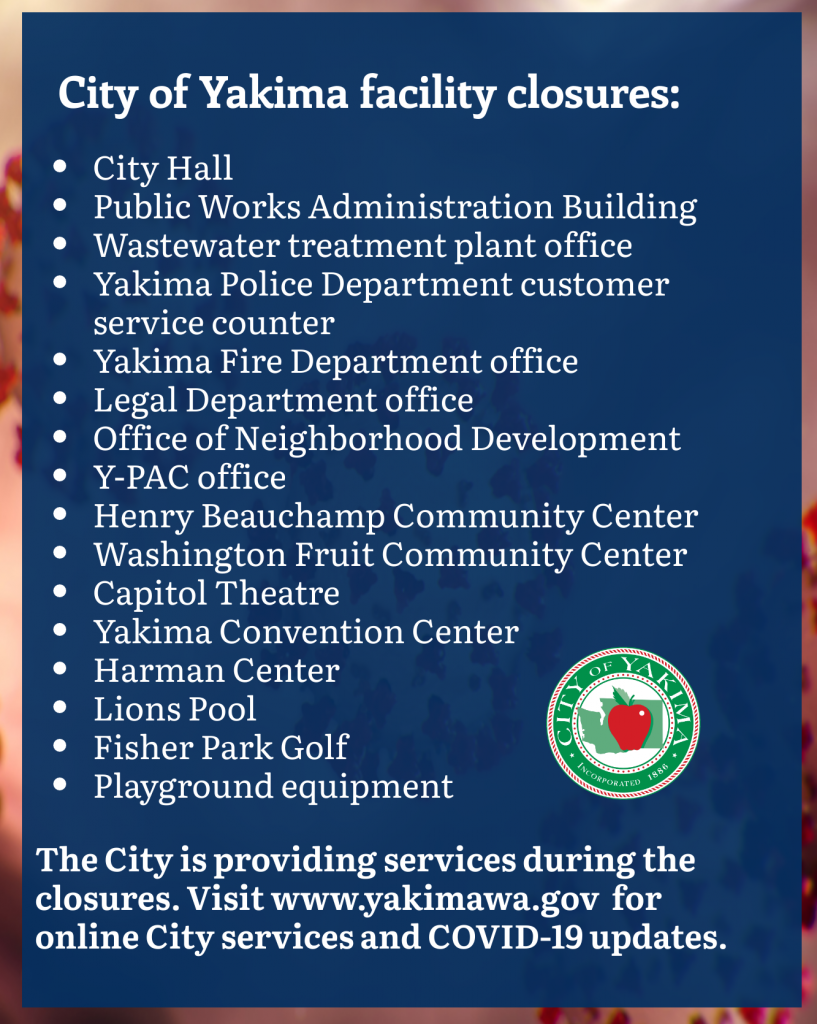 Precautions you can take
The Centers for Disease Control and Prevention (CDC) recommends the following precautions to avoid COVID-19:
Social distancing
Washing your hands with soap and water for at least 20 seconds.
Avoid touching your eyes, nose or mouth with unwashed hands.
Cover your mouth and nose with a tissue when you cough or sneeze. Throw the tissue in the trash and wash your hands.
Clean and disinfect objects and surfaces.
Wearing a facemask if you are sick.
If you are over the age of 60 or have a serious underlying health condition, stay home and away from other people.
City of Yakima COVID-19 communications
Click https://www.yakimawa.gov/media/news/category/covid-19/ for all City of Yakima news releases related to COVID-19, as well as Yakima Health District news releases the City has shared.
Following are videos the City's Community Relation's Office produced in response to COVID-19
Helpful links
Gov. Jay Inslee's stay-at-home order can be found here: https://www.governor.wa.gov/sites/default/files/proclamations/20-25%20Coronovirus%20Stay%20Safe-Stay%20Healthy%20%28tmp%29%20%28002%29.pdf
The CDC has extensive information about the coronavirus outbreak at https://www.cdc.gov/coronavirus/2019-ncov/index.html
The Yakima Health District's webpage on coronavirus can be found at https://www.yakimacounty.us/2323/Human-Coronavirus
The Washington State Department of Health (DOH) has a page dedicated to the virus at https://www.doh.wa.gov/Emergencies/Coronavirus
A DOH coronavirus hotline is available by calling 1-800-525-0127 and pressing #
The World Health Organization COVID-19 page can be found at https://www.who.int/emergencies/diseases/novel-coronavirus-2019