City of Yakima response to COVID-19
The COVID-19 (coronavirus) pandemic is an evolving situation with more than 20,000 confirmed cases in Yakima County. The City of Yakima has declared an emergency due to concerns about its possible spread. The emergency declaration has been extended through February 2nd, 2021.
Effective January 11th, Yakima County and the South Central Washington region are in Phase 1 of the state's 2-phase "Healthy Washington" recovery plan.
Information about COVID-19 vaccine phases, vaccine locations and instructions on signing up for a vaccine is available on the Yakima Health District website at COVID-19 Vaccine | Yakima County, WA
To help address the impacts of COVID-19 restrictions on small businesses, the Yakima City Council set aside more than $1.4 million in grant funds that to date have assisted more than 200 small businesses in the city limits.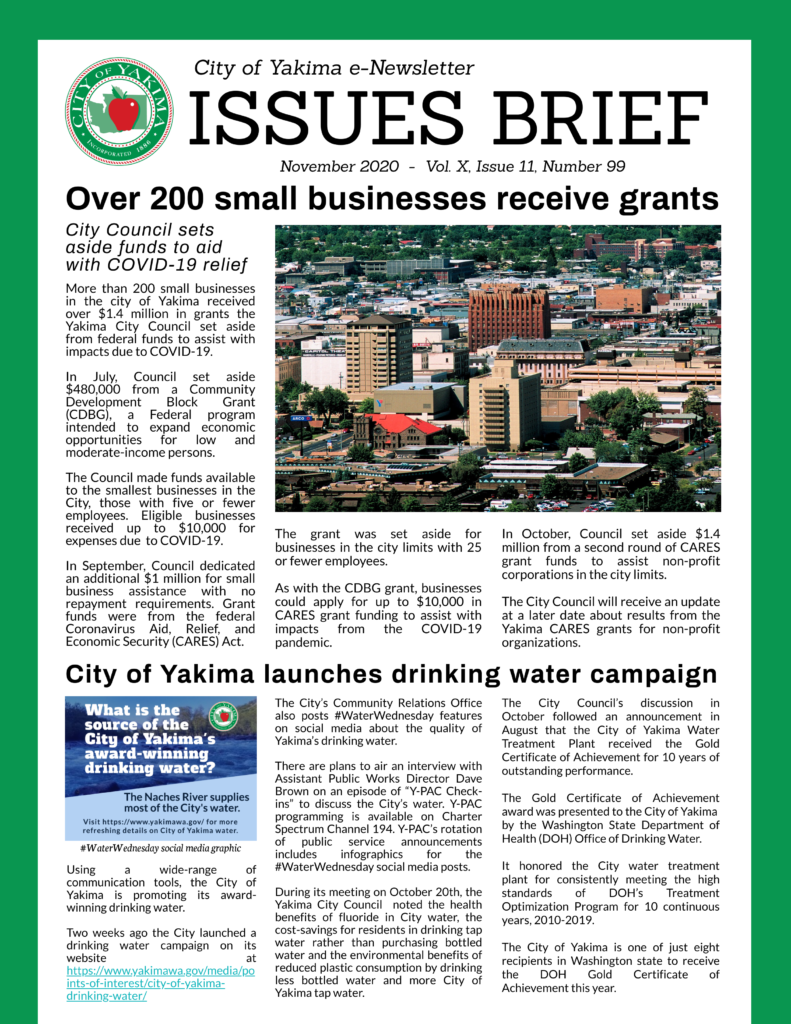 City of Yakima response and precautions
City facilities are closed until further notice. We continue to provide services.
We encourage you to use our online services. They include the City's Online Permit Center and utility services webpages.
The Utility Services Division is offering to meet with residents by appointment to register their utility accounts online.
City board, commission, and committee meetings are being held via Zoom. City Council meetings are being held via Zoom.
Parks and Recreation:
Lions Pool is open for lap swims and water walking. COVID-19 protocols are in place.
Tennis and pickleball courts, as well as the dog park at Randall Park are open with social distancing requirements posted onsite.
The City's Harman Center is closed until further notice due to temporary activity restrictions imposed by Gov. Jay Inslee. The restrictions are in response to a rapid increase in statewide COVID-19 cases.
Yakima Parks and Recreation is offering virtual recreation programs.
Public Safety:
The Yakima Police Department encourages you to utilize the online and telephone reporting systems as much as possible. YPD has created online tutorial videos in English and Spanish.
When responding to EMS aid calls, Yakima Fire Department firefighters are wearing personal protective equipment, including N95 masks and gowns. Click https://yakimafire.com/covid-19/ for more about YFD's response to the pandemic.
Airport/Transit:
Yakima Transit buses operate as normally scheduled. Bus passes and tickets can be purchased at the Transit Center, calling 575-6175 (passes will be mailed if ordered via telephone) or at Wray's Grocery Stores in Yakima. To protect passengers and drivers, Yakima Transit continues daily disinfection procedures in all its vehicles and facilities.
The Yakima Airport is offering more than 12,000 masks to passengers, staff and visitors. Masks are required at the airport in accordance with Gov. Inslee's face covering order. The airport has also adopted several social-distancing protocols in keeping with those issued by Gov. Inslee.
Precautions you can take
The Centers for Disease Control and Prevention (CDC) recommends the following precautions to avoid COVID-19:
Social distancing
Washing your hands with soap and water for at least 20 seconds.
Avoid touching your eyes, nose or mouth with unwashed hands.
Cover your mouth and nose with a tissue when you cough or sneeze. Throw the tissue in the trash and wash your hands.
Clean and disinfect objects and surfaces.
Wear a facemask.
If you are over the age of 60 or have a serious underlying health condition, stay home and away from other people.
City of Yakima COVID-19 communications
Click https://www.yakimawa.gov/media/news/category/covid-19/ for all City of Yakima news releases related to COVID-19, as well as Yakima Health District news releases the City has shared.
Following are videos the City's Community Relation's Office produced in response to COVID-19
Recording twice monthly updates for the Yakima Health District.
A Y-PAC Check-ins video series with City of Yakima updates.
Click https://www.youtube.com/c/CityofYakimaWA to see more videos produced by the Community Relations Office.
Helpful links
The Yakima Health District offers free drive-thru COVID-19 testing at State Fair Park. Click Yakima Covid-19 Testing (wacovid19.org) to pre-register. Testing is available from 9 am to 3 pm Tuesdays, Wednesdays, Fridays and Saturdays. It is also available from 12 pm to 6 pm on Thursdays.
The CDC has extensive information about the coronavirus outbreak.
The Yakima Health District provides updates on COVID-19 and a website dedicated to sharing information about stopping the spread of the virus.
The Yakima Health District also issued a directive strongly recommending that Yakima County residents wear masks when they are in public.
A guide for Yakima County businesses seeking to re-open is available at https://yvopenandsafe.com/
The Washington State Department of Health (DOH) has a page dedicated to the virus.
A DOH coronavirus hotline is available by calling 1-800-525-0127 and pressing #
The World Health Organization COVID-19 page is here.
The Yakima County Development Association offers an online Resource Guide for businesses dealing with COVID-19.
Washington Listens offers support for those experiencing stress and anxiety due to COVID-19. Call 1-833-681-0211, Monday through Friday from 9 am to 9 pm and weekends from 9 am to 6 pm – https://walistens.org
Food support
Following are food banks in the Yakima area offering support to families:
People for People Meals on Wheels distribute 7 days worth of meals for seniors every Monday from 10:30 am to 11:30 am. Call 426-2601 to sign up and for details. Meals are distributed drive-thru style.
The Opportunities Industrialization Center (OIC) of Washington Food Bank, 1419 Hathaway Street, offers a drive-thru food bank from 9 to 11:30 am each Tuesday and Thursday.
Yakima Seventh-day Adventist Food Bank, 507 N. 35th Ave. 9:30-11:30 am every Tuesday.
Sunrise Outreach Center Yakima Food Bank, 221 E. Martin Luther King Jr. Blvd. 10 am to noon every Thursday. 
Salvation Army of Yakima Food Bank, 9 S. 6th St. 2-4 p.m. Monday-Friday with seniors-only hour 1-2 pm. 
Henry Beauchamp Community Center food bank, 1211 S. 7th St.: 12:30 pm until food runs out every Monday. 
Yakima County Veterans Services food pantry, 128 N. 2nd St., Room 103: 8 am to 4 pm Monday-Friday, veterans only. 
Yakima Rotary Food Bank, 703 Central Ave. 8:30 am to noon every Friday.