Soneya Lund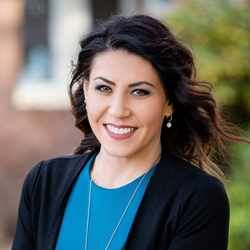 Soneya Lund was born in South Korea where her father, who was in the U.S. Navy at the time, was stationed. Soneya spent the majority of her childhood in the Yakima Valley, graduating from West Valley High School.
After graduating from Seattle Pacific University, Soneya chose to return to her roots and build her family in Yakima. In 2001, Soneya launched her business career by founding "Hair by Soneya."  After having rented space in salons owned by other people for several years, she renamed her business "Saol Salon" and opened a storefront in downtown Yakima.
In 2017, Soneya relocated "Saol Salon" to an expanded space on 12th Avenue. Today, her business provides local hair stylists with a fun, and safe place to work.
Soneya's community involvement includes serving on the board of directors of Rod's House, a non-profit organization serving homeless youth and volunteering as an overnight monitor for the Young Adult Homeless Shelter. She is also a member of the Yakima Downtown Rotary Club.
Soneya plans to focus her efforts during her tenure on the Yakima City Council on the City's finances, Council accessibility and communication, and economic growth by enticing small business and industry to locate in Yakima.