Potholes and Other Pavement Emergencies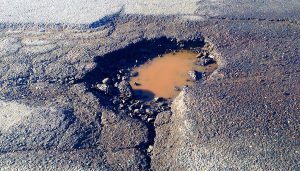 Many factors contribute to the occurrence of potholes in asphalt streets, including cold weather, poor street drainage and heavy traffic. As a result of a cold winter and wet conditions, streets may quickly develop a series of potholes. Patching of potholes is most effective if done as soon as possible. However, winter patches are temporary and must be permanently repaired during warmer weather.
The process of repairing the potholes is labor intensive and the hot mix asphalt is only good for one day at a time, so coordination and planning of the locations which need repair must be done in advance.
You can help by reporting the location of newly developed potholes to the City Public Works Department. City staff will document and inventory these potholes to determine the extent of repairs necessary. The City of Yakima's goal is to repair potholes within one working day of notification but weather and resources may delay the work. We appreciate your help in identifying the location of potholes.
Please call 509-575-6005 to report potholes. You may also report any city related issues, including potholes, through our Yak-Back service here. https://www.yakimawa.gov/yak-back/