A Brief History of YCTV
In the mid to late 1970's, the fledgling cable TV industry began to expand from large metropolitan cities to smaller cities and to more rural areas. When cable companies began to show interest in coming to Yakima, the community was not initially ready to welcome cable TV with open arms. Concerns about "inappropriate" programming on cable led to Yakima voters twice rejecting approval of a cable TV "franchise."
A franchise is a contract that allows use of public rights-of-way for a private purpose. Phone companies, water providers, natural gas companies, electricity providers, and other utilities use public rights-of-way, like streets, alleys, sidewalks, etc., to deliver a product or service. Some utilities use wires hung from poles located in public rights-of-way to deliver their product or service. Others put pipes underground in the public rights-of-way to deliver their product or service. In order to use public rights-of-way, a user must be granted a contract, a franchise. In Washington State, most franchises (with a few exceptions) must be approved by a vote of the people. That is true of cable franchises.
In 1978, Yakima voters approved a franchise with Cox Cablevision, Inc. It took about a year and a half for Cox to run all of the cables and install all of the other equipment necessary to operate a cable TV system. The first cable customers in Yakima could choose the "basic" cable package with 12 channels for $5.95 per month, or the "expanded basic" cable package with 35 channels for $7.95 per month.
As part of the compensation for use of public rights-of-way, Cox had to provide a public access channel. The City of Yakima, as the administrator of the franchise, began the process of setting up and operating the public access channel. That channel became YCTV (Yakima Community Television) and first began airing on channel 36 in 1983. The first YCTV "facility" consisted of a 10-foot by 20-foot room at what was then the Yakima Valley Vocational Skills Center.
In the mid 1980's, YCTV moved to a building near the corner of 24th Avenue and Nob Hill Blvd. That building included office space, a 20-foot by 20-foot studio, two editing bays, and a tiny equipment room. By that time, YCTV had provided community producer training to more than 750 people.
In 1989, YCTV began providing gavel-to-gavel coverage of Yakima City Council meetings. That led to the birth of Y-PAC, Yakima's government access channel, in 1992. Initially, Y-PAC shared channel space with YCTV on channel 9 on the Upper Yakima Valley cable system.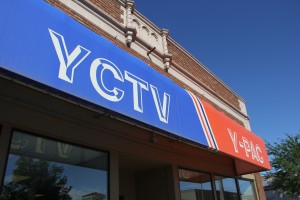 By the late 1990's, YCTV and Y-PAC had outgrown the building that had served as their home for more than a decade. After a brief stay in an old City fire station, YCTV and Y-PAC moved to their current location in 1998. The building that YCTV and Y-PAC now call home has over 6200 square feet including office space, a large equipment room, a conference/training room, 4 edit bays, a 30-foot by 40-foot studio, and a smaller 20-foot by 20-foot studio.
Today, YCTV programming can be found on channel 21 and Y-PAC programming can be found on channel 22 on the Charter Communications system which stretches from Selah to Prosser.
To date, more than 3000 people have been trained as YCTV community producers. YCTV community producers create an average of 150 new programs each year. Additionally, people in the community "sponsor" an average of 200 "imported" programs that air on YCTV each year.
The people who have used YCTV over the years are many and varied. From senior citizens to grade school children, from heavy metal musicians to quilt makers, people from all walks of life have contributed to the rich history of YCTV.
Since it first went on the air in 1983, YCTV has become an integral part of the Yakima community and continues to provide each and every person who lives here with the tremendous opportunity to share their thoughts, interests, ideas, and creativity through YCTV, "The Peoples' Channel."