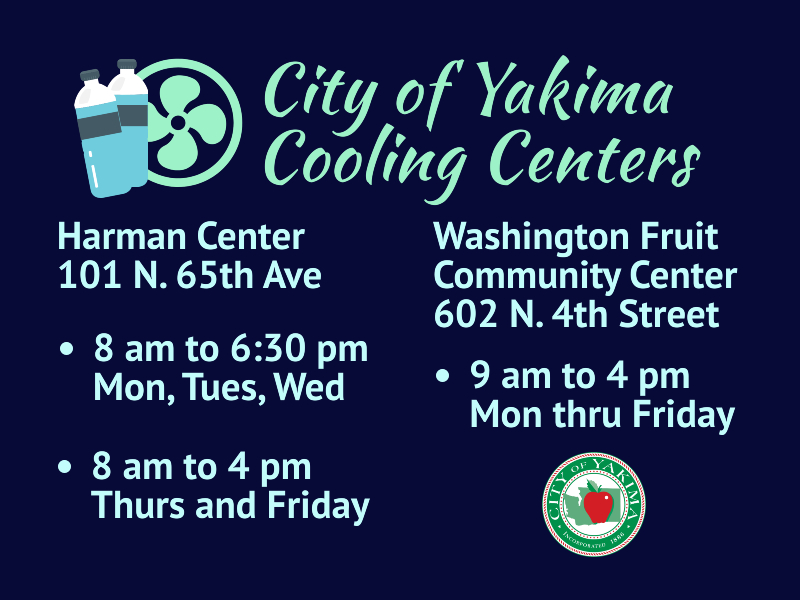 An excessive heat warning is in effect through 8 pm Sunday, July 4th.
High temperatures are expected to exceed 110 degrees during the excessive heat warning.
Washington Fruit Community Center (WFCC), 602 N. 4th St., and the Harman Center, 101 N. 65th Ave., are available as cooling centers during their regular hours.
WFCC is open 9 am to 4 pm, Monday through Friday. Regular operating hours for the Harman Center are 8 am to 6:30 pm Monday through Wednesday, 8 am to 4 pm Thursday and Friday.
The Yakima Valley Office of Emergency Management is providing bottled water for both cooling centers.
The City's Refuse Division asks the community to have refuse carts out by 6:00 am on the day of scheduled pick-up. That will help City crews complete their routes during the cooler part of the day and avoid the possible overheating of refuse vehicles during extreme heat.
The Refuse Division will not provide extra services, such as special hauls, during the excessive heat warning.
The City of Yakima provides free spray parks at Miller Park and Martin Luther King Jr. Park.
Information about City of Yakima swimming pools is available at Aquatics | Yakima Parks and Recreation
Information about the City's Harman Center, which offers activities for adults 50 and older, is available at Harman Center at Gailleon Park | Yakima Parks and Recreation
For information about the Henry Beauchamp Community Center, which offers programs and services for families, youths and seniors, click Community Services – OIC of Washington (yvoic.org)
The Yakima Health District (YHD) recommends the following to stay cool and safe:
Stay indoors and in an air-conditioned environment as much as possible.
Drink plenty of fluids, water is best.
Never leave any person or pet in a parked vehicle or outdoors without any protection from the sun for an extended period.
Limit outdoor activity, especially midday when the sun is the hottest.
Use sunscreen and wear loose lightweight, light-colored clothing.
Click the following link for more heat safety tips from YHD – 062421_Excessive-Heat-Watch-in-Effect-Friday-June-25-through-Thursday-July-1 (yakimacounty.us)