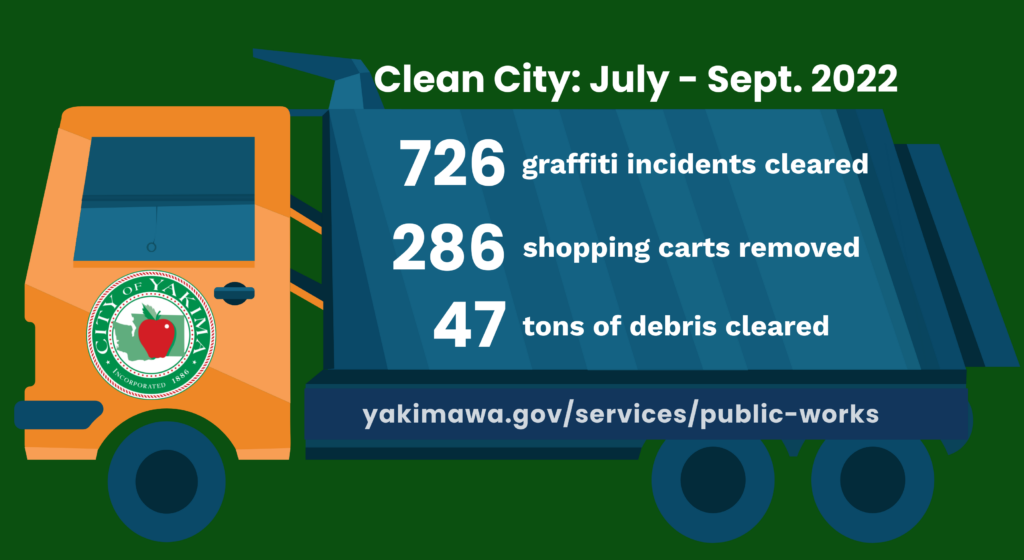 ---
Abating/cleaning 726 incidents of graffiti, clearing over 47 tons of garbage and removing 286 grocery carts are some of the City of Yakima Clean City Program activities during the third quarter of 2022.
The Yakima City Council received an update in its agenda packet for the regular meeting on Tuesday, November 15th. Click Coversheet (novusagenda.com) for the report covering Clean City activities July through September 2022.
The City of Yakima developed "Clean City" as a program in 2019. The main objectives of the Clean City program is to specifically address:
Visual blight (trash, graffiti, dangerous building, abandoned vehicles, etc.)
Unscheduled collection of waste and litter from the City's public areas/thoroughfares
Expediting the clean-up of such illegal dumps
Cleaning up homeless encampments
Supporting Yakima Police Department officers in unlawful camping enforcement
Providing coordination with neighborhoods for annual clean-up events
Creating educational components
Engaging with community partners and volunteers
Clean City, under the direction of the City's Public Works Division, coordinates the efforts of several City departments. They include:
City of Yakima Public Works:
Public Works Administration
Refuse Division
Streets & Traffic Division
Parks & Recreation Division
City of Yakima Codes Division
City of Yakima Legal Department
Yakima Police Department
Click https://www.yakimawa.gov/services/public-works/ for more about the City of Yakima Public Works Department.