Progress on the Miller Park improvement project continues this week with installation of a mosaic mounted on the south wall at Washington Fruit Community Center, 602 N. 4th Street.
"We are so appreciative of the Millennium Foundation and its partnership with Tieton Mosaics for creating and installing this beautiful artwork," said Parks and Recreation Manager Ken Wilkinson. "This will be such a great addition for the center and Miller Park."
The mosaic wall is part of a plan by the Millennium Foundation that includes installing freestanding mosaic pieces within Miller Park, as well as mosaic tile "welcome mats" at each walkway entrance to the park.
Earlier this year, the mosaic project proposal was presented to the Miller Park Improvement Committee, Yakima Parks & Recreation Commission and Yakima Arts Commission.
On May 17th, the Yakima City Council approved a resolution authorizing an agreement with the Millennium Foundation to install mosaic art pieces in Miller Park. Full details of the plan are available from the May 17th Council agenda packet at Coversheet (novusagenda.com)
For more about the project contact Parks and Recreation Manager Ken Wilkinson at 509-576-6416.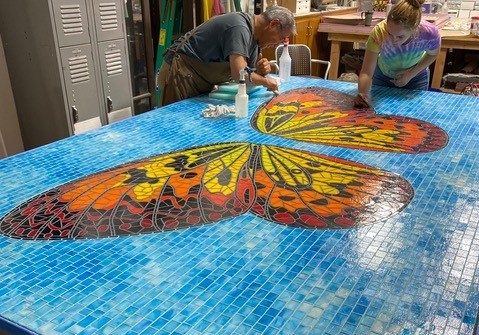 ---