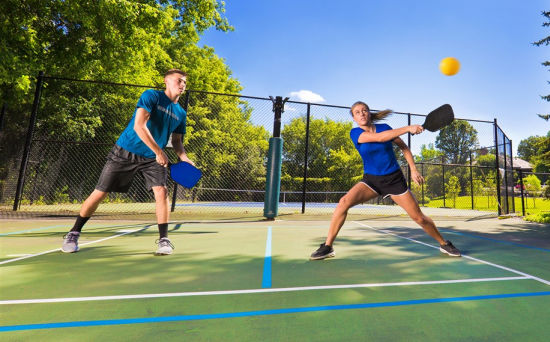 The City of Yakima is starting work this week on creating eight courts for one of the nation's fastest growing sports – Pickleball.
photo courtesy USAPA
Three of the six tennis courts at the City's Franklin Park will be converted to pickleball, a sport that combines elements of tennis, badminton and ping-pong. It is played either as doubles or singles with paddles and wiffle balls.
"The Franklin Park courts are older and need to be renovated," said Parks and Recreation Manager Ken Wilkinson. "We have a pickleball group that has agreed to help with the project and will provide volunteer labor and funding."
The renovation's cost is estimated at $10,000, with City park maintenance staff providing most of the labor to save costs. "We will also use the project as an opportunity to train staff on tennis court renovations, as well," said Wilkinson.
In addition, Sig Fossum with Sporthaus has agreed to assist with renovating the three Franklin Park tennis courts into eight pickleball courts, applying his experience in renovating other courts in the area.
"Once again, generous people in our community see a need and are willing to step up and do what it takes to make our community a better place," said Wilkinson.
For more about pickleball, visit the USA Pickleball Association (USAPA) website at https://www.usapa.org/
The USAPA has posted an introductory video about the sport at https://www.youtube.com/watch?time_continue=30&v=hGfk7wTBg3E
Click https://yakimaparks.com/ for more about Yakima Parks and Recreation programs.