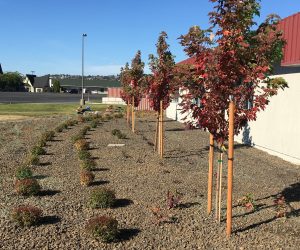 Work is wrapping up on a second City of Yakima landscaping project that will conserve water.
The current project involves installing irrigation lines and plants that require little water in landscaping areas around the City of Yakima's Public Works Division at 2301 Fruitvale Blvd.
"There is a two-fold purpose: One is to conserve water and the other is to install a demonstration garden to show residents an alternative to grass and high-water-use plants," said Assistant Public Works Director David Brown. "We are showing that low-water-use gardens can be beautiful. We have focused on planting native, low-water-use species that are aesthetically pleasing."
Costs for the new water-conservation effort are being covered from a $63,500 Sustain and Manage America's Resources for Tomorrow (SMART) grant through the Bureau of Reclamation, sponsored through the Yakima Basin Integrated Plan.
Earlier this spring the City installed new grant-funded landscaping in Downtown Yakima on the east side of 2nd Street from Yakima Avenue to Staff Sgt. Pendleton Way. That project, too, involved new landscaping that required little water. It will reduce water consumption by about a third, Brown said.
For additional information, contact Brown at 575-6204.