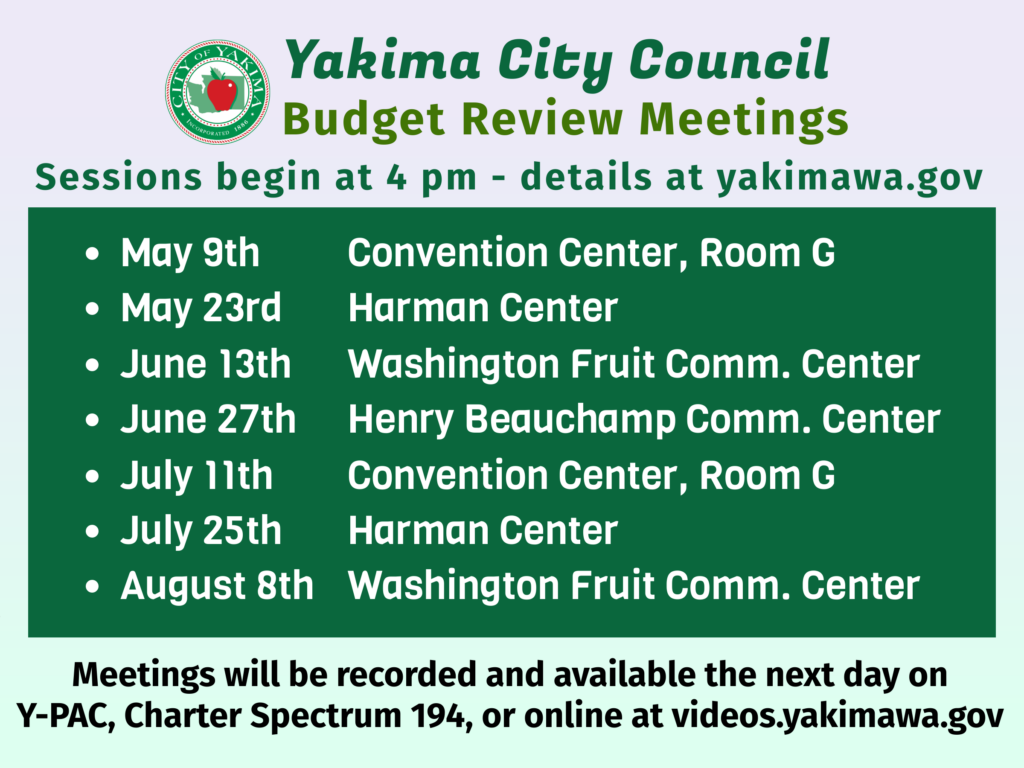 ---
Over the next three months, the Yakima City Council will hold a series of budget review meetings at four different locations around the city. The Council is holding the meetings at different locations to make them as accessible as possible. Listed below are the dates, locations and City departments presenting during each of the meetings. Meetings will be on the second or fourth Tuesdays and begin at 4:00 pm:
May 9th Convention Center, Room G Police (jail, services, animal control, parking)
May 23rd Harman Center Fire and SunComm
June 13th Washington Fruit Comm. Center Community Development, Planning, Codes
June 27th Henry Beauchamp Comm. Center City Manager, Assistant City Manager (airport, economic development, ONDS, IT), City Clerk, City Council, Community Relations
July 11th Convention Center, Room G Public Works (general fund), Parks & Recreation (cemetery, senior center, WA Fruit Comm. Center and Henry Beauchamp Comm. Center), Streets/Traffic, Refuse, Water, Wastewater, Engineering, Transit, Fleet/Equipment Rental
July 25th Harman Center Human Resources, Legal and Finance Dept. (Utility Billing and Purchasing)
August 8th Washington Fruit Comm. Center Municipal Court
Each department will discuss its areas of service and propose expenditure reductions.
"During its retreat last month, the City Council asked department heads to determine which lines of service could be reduced based on a 10 percent reduction of each department's budget," said Communications & Public Affairs Director Randy Beehler. "Department heads will present Council with their suggestions for 10 percent across-the-board reductions."
The City Council is not expected to make any decisions regarding reductions during the budget review meetings, Beehler added. That process won't occur until budget discussions in the fall of this year.
Each of the above sessions are open to the public. The meetings will be recorded and available for viewing the following day (Wednesday) on Y-PAC, Charter Spectrum Channel 194, beginning at 7:00 pm. They will also be available to view the following day on the Y-PAC website, https://videos.yakimawa.gov/
Agendas will be available prior to each of the budget review meetings at Agendas and Minutes | City Council (yakimawa.gov)